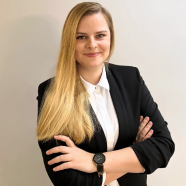 mgr inż. Paulina Karolina Nowak
Specjalista
Miejsce pracy

Telefon

(48) 58 348 65 83

E-mail
This paper concerns the comparison of the efficiency of two-stage hydrolysis processes, i.e., alkaline pre-treatment and acid hydrolysis, as well as alkaline pre-treatment followed by enzymatic hydrolysis, carried out in order to obtain reducing sugars from triticale straw. For each of the analyzed systems, the optimization of the processing conditions was carried out with respect to the glucose yield. For the alkaline pre-treatment,...

Lubricating oils used in machines with an open cutting system, such as a saw or harvester, are applied in forest areas, gardening, in the household, and in urban greenery. During the operation of the device with an open cutting system, the lubricating oil is emitted into the environment. Therefore, the use of an oil base and refining additives of petroleum origin in the content of lubricants is associated with a negative impact...

This paper concerns the possibility of using TLC coupled with a flame ionization detector (FID) and micro-TLC (μTLC) as precursors for microfluidized devices of analytical techniques to identify and determine the presence and content of the petroleum/vegetable oil base in the lubricating oils applied in cutting devices (chainsaws). This research is related to the problem of ensuring, in compliance with the requirements of environmental...
wyświetlono 632 razy