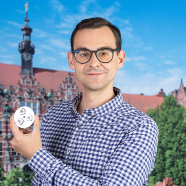 dr inż. Roland Ryndzionek
This paper represents a numerical and experimental investigation of the multicell piezoelectric motor. The proposed design consists of three individual cells that are integrated into the stator, double rotor, and a preload system combined into a symmetrical structure of the motor. Each of the cells is characterized by a traveling wave and rotating mode motor. A finite element numerical analysis is carried out to obtain optimal...

The main goal of this work is to report initial development on a respiration and heartbeat measurement sensor that can be used in continuous monitoring conditions at a minimal impact on the patient. General description of the sensor, consisting of a PVDF film and the bonding layer, is given. Open-circuit voltage generated by the sensor is estimated by analytical and numerical calculations. Analog and digital interface used to extract...

The presented paper concerns a design, modeling and chosen tests of the prototype multicell piezoelectric motor (MPM). The principle of operation based on three independent traveling wave actuators is presented. The main materials and technologies used in the fabrication process are described. The structure of the motor is modeled using static and modal FEM analysis. The process of traveling wave generation in the MPM structure...
Uzyskane stopnie/tytuły naukowe
Nadanie stopnia naukowego

dr inż. Automatyka, elektronika i elektrotechnika

(Dziedzina nauk inżynieryjno-technicznych)
wyświetlono 281 razy