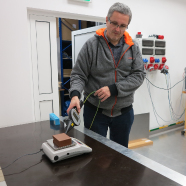 dr inż. Stanisław Galla
Zatrudnienie
Kierownik techniczny w Laboratorium Inteligentnej Energetyki LAB-6
Skin lesions are commonly treated using laser heating. However, the introduction of new devices into clinical practice requires evaluation of their performance. This study presents the application of optical phantoms for assessment of a newly developed 975-nm pulsed diode laser system for dermatological purposes. Such phantoms closely mimic the absorption and scattering of real human skin (although not precisely in relation to...

Testing of AC/DC power supplies using the thermography was carried out in order to assess their assembly and operation correctness before launching them on the market. The investigation was carried out for 17 AC/DC power supplies which passed the standard tests (measurements of their basic parameters and characteristics). The investigation consisted of two steps. In the first step the dispersion of temperature on power supply boards...

A wide range of dermatological diseases can be efficiently treated using laser heating. Nevertheless, before the new laser is introduced into clinical practice, its parameters and ability to interact with human skin have to be carefully examined. In order to do that optical skin phantoms can be used. Such phantoms closely imitate the scattering and absorption properties of real human skin tissue along with its thermal properties,...
wyświetlono 230 razy