Laboratorium Inżynierii Jakości LAB Q
Offer
Measurment System Analysis - MSA - data analysis in Minitab (including analysis of variance);
Six Sigma core tools (distribution analysis, normal / binomial distribution, distribution normalization - central limit theorem, stability and quality of the process - data analysis in Minitab;
SPC - theory and selection of charts, preparation of sampling plan, sample measurements, detection of changes in the process - data analysis in Minitab;
Statistical receiving control (AQL / RQL) - alternative and numerical evaluation, sampling rules;
Testing hypotheses (distinguishing groups of components based on measurements and statistical analysis) - data analysis in Minitab;
Basic and new quality tools in practice;
Selected methods of risk management, eg. FMEA;
Lean Management in practice, eg. 5S, VSM, Kanban, Yamazumi chart, work standardization, Kaizen, OPF, peny game, simulation of process randomness (Red baed experiment);
Basics of creating job instructions;
Problem solving of quality- eg. 3D report, 8D;
Basics of workshop measurements and measurements of electrical quantities.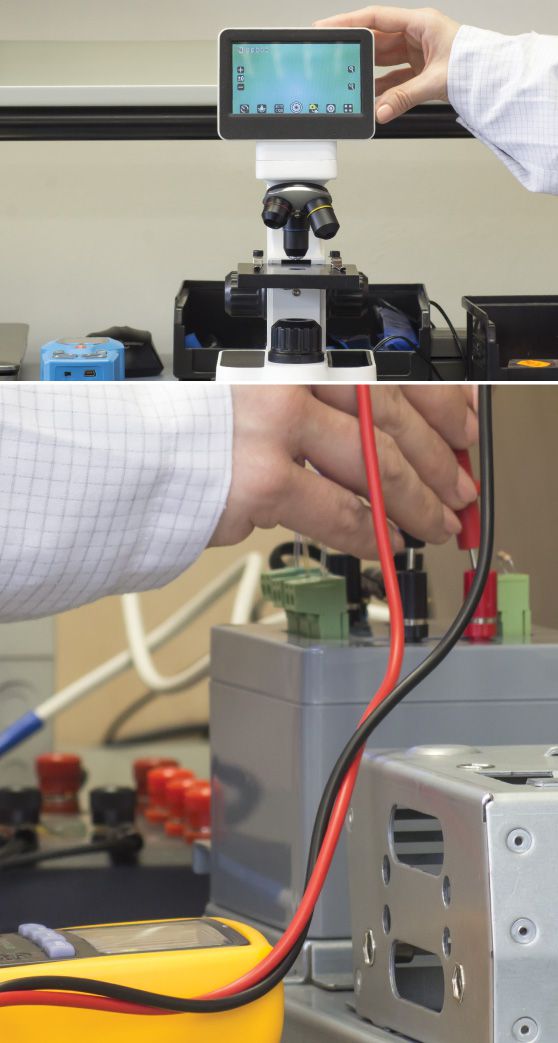 Research topics / Laboratory research field
(valid from 03-06-2019) 1. Six sigma – podstawy 2. Six Sigma – wybrane narzędzia (m.in. analiza rozkładu - rozkład normalny/dwumianowy, normalizacja rozkładu – centralne twierdzenie graniczne) 3. Six Sigma - testowanie hipotez (rozróżnianie grup komponentów na podstawie pomiarów i analizy statystycznej) z wykorzystaniem programu Minitab 4. Analiza systemów pomiarowych (MSA) dla pomiarów powtarzalnych z wykorzystaniem programu Minitab (m.in. Gage R&R Study Crossed; Type 1 Gage Study) 5. Analiza systemów pomiarowych (MSA) dla pomiarów niepowtarzalnych z wykorzystaniem programu Minitab (m.in. Gage R&R Study Nested) 6. Statystyczne sterowanie procesem (SPC) – poziom podstawowy 7. Statystyczne sterowanie procesem (SPC) - poziom zaawansowany 8. Ocena zdolności procesu (wyznaczanie wskaźników Cp, Cpk, Pp, Ppk) 9. Planowanie eksperymentu (DOE) z wykorzystaniem programu Minitab 10. Statystyczna kontrola odbiorcza (AQL/RQL) – ocena alternatywna i liczbowa, zasady próbkowania. 11. Podstawowe i nowe narzędzia jakości w praktyce 12. Wybrane metody zarządzania ryzykiem – m.in. analiza FMEA 13. Podstawy tworzenia instrukcji stanowiskowych 14. Podstawy miernictwa warsztatowego i pomiarów wielkości elektrycznych 15. Lean Management w praktyce - podstawy (m.in. symulacja losowości procesu – red bead experiment; penny game) 16. Problem solving – metoda 8D, PDCA, arkusz A3 17. Mapowanie strumienia wartości – VSM 18. Kaizen jako skuteczna metoda ciągłego doskonalenia 19. Zastosowanie metody 5S w praktyce 20. Kanban – skuteczne zarządzanie pracą 21. TWI czyli jak skutecznie i efektywnie zarządzać procesem rozwoju pracowników 22. Planowanie i kontrola pracy zespołu 23. Scrum do wykorzystania w projektach Lean
Research Kind
NCN discipline
ST8 Inżynieria procesów i produkcji: modelowanie, projektowanie, sterowanie, konstrukcje i procesy b / ST8_7 Budowa maszyn ( modelowanie, kształtowanie, obróbka)
Research field & subject
N. Badania właściwości fizycznych / 17. Wyroby inne
E. Badania elektryczne i elektroniczne / 6. Wyroby i wyposażenie elektryczne, telekomunikacyjne i elektroniczne
M. Badania inne / 17. Wyroby inne
Details
Business contact:

Centrum Transferu Wiedzy i Technologii

Location

Al. Zwycięstwa 27, 80-219 Gdańsk

Phone

+48 58 348 62 62

E-mail

Contact:

Homepage:

Maintainer:

Associated units:

Verified by:

Gdańsk University of Technology
seen 3807 times