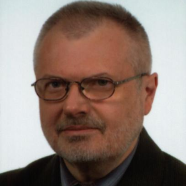 The Hatree-Fock method with 6-311G** split-valence molecular orbitals basis sets and the density function theory-B3LYP have been applied to geometrical optimizations and calculations of total electronic, zero point vibrational energies and proton affinities at 298 K for volatile organic compounds. Calculated values of proton affinities are compared with experimental data.

Calculations of formation energies of the ionized water clusters and energies of reactions between small (including less than eight water molecules) neutral and positively ionized water clusters are presented. Moreover, we discuss some reaction paths between neutral and positively charged dimers, trimers and tetramers and proton transfer reactions (PTR) between cyclic clusters and H3O+ ions which can appear in beam experiments...

Relative abundances of positively ionized water clusters formed in a low-pressure electrical discharge as function of reduced electric field were obtained by using drift cell and quadrupole mass spectrometer. It was noticed that some clusters say with n = 4 were more abundant than others, at comparable drift conditions. Dissociation energies have been derived from equilibrium conditions for relative clusters abundances. The Hartree-Fock...
seen 898 times