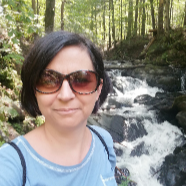 dr hab. inż. Agnieszka Witkowska
Professor
Workplace

Budynek Centrum Nanotechnologii pokój 4/10

Phone

(58) 348 66 08
Zastępca Dyrektora ds. dydaktycznych
Advanced metal oxide electrodes in Li-ion batteries usually show reversible capacities exceeding the theoretically expected ones. Despite many studies and tentative interpretations, the origin of this extra-capacity is not assessed yet. Lithium storage can be increased through different chemical processes developing in the electrodes during charging cycles. The solid electrolyte interface (SEI), formed already during the first...

We present an X-ray absorption spectroscopy (XAS) study of a low Pt content catalyst layer(Pt loading 0.1 mg c2) operating at the cathode of a proton exchange membrane fuel cell(PEMFC). This catalyst is based on the use of a mesoporous inorganic matrix as a support forthe catalyst Pt nanoparticles. Due to the high Pt dilution, in situ measurements of itsstructural properties by XAS are challenging and suitable experimental strategies...

ZnFe2O4 (ZFO) Li-ion batteries (LIBs) represent a reliable, affordable, and safe energy storage technology for use in portable application. However, current LIB active materials (graphite, lithium/transition metal spinel or layered oxides, olivine structures) can store only limited energy since they rely on insertion storage based on solid-state host-guest interactions. Moreover, performances and durability of the cells are strongly...
Obtained scientific degrees/titles
Obtained science degree

dr hab. inż. Physics

(Physical sciences)

Obtained science degree

dr inż. Physical sciences

()
seen 996 times