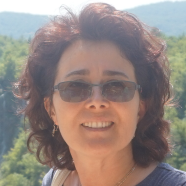 dr Anita Maria Dąbrowicz-Tlałka
Zastępca Dyrektora ds.Rozwoju Dydaktyki CM
Workplace

Centrum Nanotechnologii B pokój 102

Phone

(58) 348 61 90
Pełnomocnik Rektora PG ds. eNauczania
Książka obejmuje zakresem teorię matematyki związaną z egzaminem maturalnym na poziomie rozszerzonym.

Każda z uczelni w Polsce korzysta z rozwiązań technologicznych pozwalających na organizowanie i wspomaganie nauczania przez Internet. Są to tzw. platformy edukacyjne. Podstawowe zadanie tych rozwiązań, będących czasami zaawansowanymi systemami, polega na gromadzeniu materiałów dydaktycznych, ich organizowaniu i udostępnianiu odbiorcom przez Internet. Spopularyzowanie swojej marki w Internecie to jedno, ale zapewnienie sobie dobrej...

Tak jak było to kilkanaście lat temu na niższych etapach edukacji, teraz my – nauczyciele akademiccy – weryfikujemy programy kształcenia, wprowadzamy nowe metody nauczania. Zmniejszamy liczbę godzin zajęć z przedmiotów ścisłych, stawiamy coraz bardziej na umiejętności miękkie i wprowadzamy technologię jako element uzupełniający luki edukacyjne. Często zdarza się przy tym, że umiejętności dydaktyczne i nieprzeciętne zaangażowanie...
Obtained scientific degrees/titles
Obtained science degree

dr Mathematics

(Mathematics)

Politechnika Poznańska
seen 1890 times