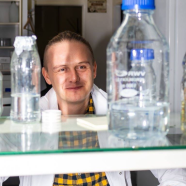 This study presents the first evaluation of new Toxoplasma gondii recombinant chimeric antigens containing three immunodominant regions of SAG2, GRA1, and one of two ROP1 fragments differing in length for the serodiagnosis of human toxoplasmosis. The recombinant chimeric antigens SAG2-GRA1-ROP1L (with large fragment of ROP1, 85-396 amino acid residues) and SAG2-GRA1-ROP1S (with a small fragment of ROP1, 85-250 amino acid residues)...

Toxoplasma gondii infects all warm-blooded animals including humans, causing serious public health problems and great economic loss in the animal husbandry. Commonly used serological tests for diagnosis of toxoplasmosis involve preparation of whole Toxoplasma lysate antigen (TLA) from tachyzoites. The production of this antigen is associated with high costs and lengthy preparation and the possibility of staff infection. There are...

The preliminary diagnostic utility of two mixtures of Toxoplasma gondii recombinant antigens (rROP1+rSAG2 and rROP1+rGRA6) in IgG ELISA and IgG avidity test has been evaluated. A total of 173 serum samples from patients with toxoplasmosis and seronegative people were examined. The sensitivity of IgG ELISA for rROP1+rSAG2 and rROP1+rGRA6 was 91.1% and 76.7%, respectively, while the reactivity for sera from patients where acute toxoplasmosis...
Obtained scientific degrees/titles
Obtained science degree

dr inż. Biotechology

(Chemical sciences)
seen 769 times