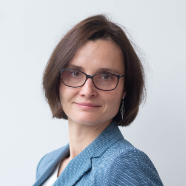 dr hab. inż. Beata Bochentyn
Business contact
Centrum Transferu Wiedzy i Technologii
Location

Al. Zwycięstwa 27, 80-219 Gdańsk

Phone

+48 58 348 62 62

E-mail
Professor
Workplace

Budynek Centrum Nanotechnologii pokój 4/11

Phone

(58) 348 66 13
Wytworzono próbki na bazie tytanianu strontu domieszkowanego niobem i przebadano wpływ nasączania niklem na właściwości tych materiałów.

The purpose of this study was to develop a method and software based on the Fourier Transform Infrared Spectroscopy for the in-situ, quantitative analysis of the composition of outlet gases from Solid Oxide Fuel Cell (SOFC). The calibration procedure performed at the beginning of the experiment indicated a polynomial dependence between the concentration of a calibrating gas (CO, CO2, CH4) and the corresponding integrated absorbance in...

The Ge0.77Ag0.1Sb0.13Te1alloy was fabricated by a novel two step route. For that purpose firstly the oxide reagents were melted at high temperature and quenched into pellets. After that pellets were milled to the powder and then reduced in hydrogen at various temperatures and for various periods of time. Energy dispersive X-ray analysis indicated the possibility of successful fabrication of stoichiometric thermoelectric materials...
Obtained scientific degrees/titles
Obtained science degree

dr hab. inż. Physical sciences

(Natural sciences)
seen 2203 times