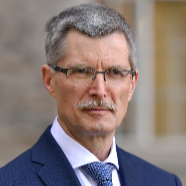 prof. dr hab. inż. Janusz Cieśliński
Business contact
Centrum Transferu Wiedzy i Technologii
Location

Al. Zwycięstwa 27, 80-219 Gdańsk

Phone

+48 58 348 62 62

E-mail
This work presents measurements of the contact angle of sessile droplets for three nanofluids, i.e. water–Al2O3, water–TiO2 and water–Cu. The plates made of glass, anodized aluminium and stainless steel of different roughness served as substrates. Ultrasonic vibration was used for 30–60 min in order to stabilise the dispersion of the nanoparticles. Nanoparticles were tested at the concentration of 0.01%, 0.1%, and 1% by weight....

Przedstawiono wyniki pomiarów współczynnika przejmowania ciepła podczas wrzenia dwóch nanocieczy, tj. woda-Al2O3 i woda-Cu o trzech koncentracjach masowych nanocząstek: 0.01%,0.1% oraz 1% na poziomych gładkich rurkach ze stali nierdzewnej i miedzi o średnicy zewnętrznej 10 mm.

Przedstawiono wyniki badań eksperymentalnych wrzenia dwóch nanocieczy woda-Al2O3 i woda Cu na poziomych gładkich rurkach stalowych i miedzianych. Koncentracja nanoicząstek wynosiła 0.01%, 0.1% oraz 1%.
Obtained scientific degrees/titles
Obtained science degree

dr hab. Mechanical engineering

(Technology)

Obtained science degree

dr Mechanical engineering

(Technology)
seen 1347 times