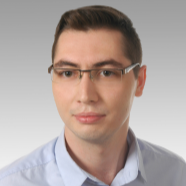 The article presents the possibilities of using Rapid Prototyping (RP) technology in the manufacturing of turbine blades with small diameter holes. The object under investigation was gas turbine blade with small diameter cooling holes and holes for generating longitudinal vortices. A turbine blade model was produced by means of Direct Metal Laser Sintering (DMLS) technology and subsequently validated in terms of detection and accuracy...

Firma EOS, wiodący i światowy dostawca technologii przemysłowego wykorzystania druku 3D dla materiałów metalicznych i polimerowych, zaprezentowała na targach formnext 2017 nowy system EOS P500, przeznaczony do addytywnego wytwarzania modeli. Drukarka 3D adresowana jest dla przedsiębiorstw chcących wytwarzać na skalę przemysłową części i elementy z tworzyw sztucznych o wysokiej jakości.

Purpose The purpose of this research is to evaluate the geometric quality of small diameter holes in parts printed by DMLS technology. An in-process optical inspection method is proposed and assessed during a pilot study. The influence of the theoretical hole diameter assumed in a CAD system and the sample thickness (hole length) on the hole clearance was analysed. Design/methodology/approach The samples made of two different...
seen 277 times