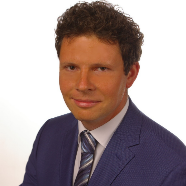 dr hab. inż. Grzegorz Boczkaj
Associate professor
Workplace

Budynek D Wydziału Chemicznego-Inżynieria Chemiczna

Phone

+48 58 347 28 10

E-mail
Advanced oxidation processes (AOPs) have been used as an alternative and effective option for treatment of industrial wastewater, especially in the case of the non-biodegradable compounds. Despite of several well developed AOPs, the majority of them are effective only at acidic or neutral pH, namely Fenton related processes, making the list of available effective advanced oxidation technologies strongly limited. In many cases,...

Cobalt-based catalysts with high stability and facile recovery for heterogeneous peroxymonosulfate (PMS) activation are still rather sparse and therefore highly desirable. Herein, 3D mesoporous α-Co(OH)2 nanosheets was created on robust nickel foam (NF) via facile electrodeposition approach at 6 mA/cm2 for only 400 s. Almost complete removal of phenol can be achieved within 7 min with a degradation rate of 0.39 min−1, 2 times higher...

The paper presents the results of investigations on the effectiveness and reaction rate constants of the oxidation of sulfide ions and organic sulfides in real industrial effluents from the production of bitumens (2000 mg S2- L-1) using hydrodynamic and acoustic cavitation. The content of the effluents was analysed in terms carbon disulfide, dimethyl sulfide, and di-tert-butyl disulfide concentration. A possibility of complete...
Obtained scientific degrees/titles
Obtained science degree

dr hab. inż. Chemical technology

(Technology)

Obtained science degree

dr inż. Chemical technology

(Technology)
seen 7952 times