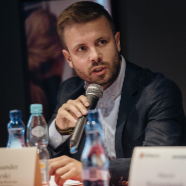 dr hab. inż. Aleksander Orłowski
The study presents the possibility of multi-criteria decision analysis (MCDA) application when choosing analytical procedures with low environmental impact. A type of MCDA, Preference Ranking Organization Method for Enrichment Evaluations (PROMETHEE), was chosen as versatile tool that meets all the analytical chemists – decision makers requirements. Twenty five analytical procedures for aldrin determination in water samples (as...

This work attempts to analyze problems resulting from the lack of possibility to assess the effectiveness of the implementation of "Smart Mobility" solutions, which represent one of the cornerstones of Smart Cities, from the point of view of city hall offices. The work presents existing Smart Mobility evaluation solutions, discusses their drawbacks, and then proposes a new indicator. The final part of the work presents assumptions...

In this study we perform ranking of analytical procedures for 3-monochloropopane-1,2-diol determination in soy sauces with PROMETHEE method. Multicriteria decision analysis was performed for three different scenarios – metrological, economic and environmental, by application different weights to decision making criteria. All three scenarios indicate capillary electrophoresis – based procedure as the most preferable. Apart from...
Obtained scientific degrees/titles
Obtained science degree

dr hab. inż. Management and quality studies

(Social studies)

Obtained science degree

dr inż. Management

(Economics)

Politechnika Poznańska, Wydział Inżynierii Zarządzania
seen 2455 times