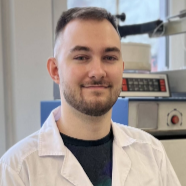 mgr inż. Antoni Taraszkiewicz
Employment
Research fields
Background: Keratin is among the most abundant structural proteins of animal origin, however it remains broadly underutilized. Objective: Bioinformatic investigation was performed to evaluate selected keratins originating from mass-produced waste products, i.e., chicken feathers and pig hair, as potential sources of bioactive peptides. Methods: Pepsin, trypsin, chymotrypsin, papain, and subtilisin were used for in silico keratinolysis...

Feathers, burdensome waste from the poultry industry, can be a cheap source of keratin, a protein with excellent physico- chemical, biological, and mechanical properties. Acid and alkaline hydrolyses are usually adopted for isolation of keratin from its natural resources. This study aimed at assessing the statistically significant effect of input variables in the alkaline hydrolysis of keratin from chicken feathers on the process...

The fragmentomic-assisted method was employed to predict the biological potential of peptides derived from milk proteins hydrolyzed by papain and bromelain. Firstly, protein sequences were acquired from the BIOPEP-UWM database and then hydrolyzed by the above enzymes using a BIOPEP-UWM tool called "Enzyme(s) action". The released peptides were defined as parent peptides and further analyzed for the presence of shorter peptidic...
seen 1345 times