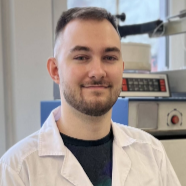 mgr inż. Antoni Taraszkiewicz
Employment
Research fields
Doktorant

Phone

+48 58 347 10 70

E-mail
Protein derived bioactive peptides not only serve as nutrients but can also exert drug-like activity, e.g. antidiabetic, antihypertensive, or antimicrobial, to name a few. Most biopeptides have beneficial effects on health that make them attractive for nutraceutical applications. The majority of bioactive peptides have been obtained from food proteins, but protein-rich by-products generated by agriculture...

Bioaktywne peptydy pochodzące z białek żywności mają nie tylko znaczenie żywieniowe, ale szczególnie profilaktyczne i terapeutyczne w przypadku wielu chorób. Są to małocząsteczkowe fragmenty białek, które po uwolnieniu podczas hydrolizy mogą wykazywać m.in. właściwości przeciwcukrzycowe, przeciwnadciśnieniowe, przeciwdrobnoustrojowe, przeciwutleniające, immunomodulujące...

Feathers, burdensome waste from the poultry industry, can be a cheap source of keratin, a protein with excellent physico- chemical, biological, and mechanical properties. Acid and alkaline hydrolyses are usually adopted for isolation of keratin from its natural resources. This study aimed at assessing the statistically significant effect of input variables in the alkaline hydrolysis of keratin from chicken feathers on the process...
seen 389 times