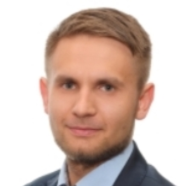 mgr inż. Bartosz Szulczyński
Employment
Research fields
Business contact
Centrum Transferu Wiedzy i Technologii
Location

Al. Zwycięstwa 27, 80-219 Gdańsk

Phone

+48 58 348 62 62

E-mail
The paper presents principle of operation and design of the most popular chemical sensors for measurement of volatile organic compounds (VOCs) in outdoor and indoor air. It describes the sensors for evaluation of explosion risk including pellistors and IR-absorption sensors as well as the sensors for detection of toxic compounds such as electrochemical (amperometric), photoionization and semiconductor with solid electrolyte ones....

This review paper presents different ways to apply a measurement instrument of e-nose type to evaluate ambient air with respect to detection of the odorants characterized by unpleasant odour in a vicinity of municipal processing plants. An emphasis was put on the following applications of the electronic nose instruments: monitoring networks, remote controlled robots and drones as well as portable devices. Moreover, this paper presents...

The paper presents practical application of an electronic nose technique for fast and efficient discrimination between authentic and fake perfume samples. Two self-built electronic nose prototypes equipped with a set of semiconductor sensors were employed for that purpose. Additionally 10 volunteers took part in sensory analysis. The following perfumes and their fake counterparts were analysed: Dior – Fahrenheit, Eisenberg – J'ose,...
seen 885 times