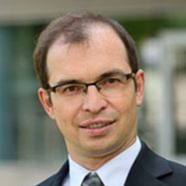 dr hab. inż. Paweł Czarnul
Business contact
Centrum Transferu Wiedzy i Technologii
Location

Al. Zwycięstwa 27, 80-219 Gdańsk

Phone

+48 58 348 62 62

E-mail
This paper presents design, implementation and performance results of a new modular, parallel, agent-based and large scale crowd simulation environment. A parallel application, implemented with C and MPI, was implemented and run in this parallel environment for simulation and visualization of an evacuation scenario at Gdansk University of Technology, Poland and further in the area of districts of Gdansk. The application uses a...

The paper proposes a model, design, and implementation of an efficient multithreaded engine for execution of distributed service-based workflows with data streaming defined on a per task basis. The implementation takes into account capacity constraints of the servers on which services are installed and the workflow data footprint if needed. Furthermore, it also considers storage space of the workflow execution engine and its cost....

The paper deals with parallelization of computing similarity measures between large vectors. Such computations are important components within many applications and consequently are of high importance. Rather than focusing on optimization of the algorithm itself, assuming specific measures, the paper assumes a general scheme for finding similarity measures for all pairs of vectors and investigates optimizations for scalability...
seen 760 times