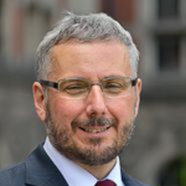 dr hab. inż. Maciej Łuszczek
A top-gated Graphene Field-Effect Transistor (GFET) suitable for electronic sensing applications was modelled. The applied simulation method reproduces correctly the output transfer GFET characteristics and allows to investigate doping effect caused by different physical, chemical or biological factors. The appearance of additional charge in the system results in the shift of the current-voltage characteristic. This feature could...

W pracy wykonano obliczenia kwantowomechaniczne struktury elektronowej hipotetycznego materiału TbBa2Cu3O7 (Dy123) metodą FP-LAPW (full potential - linearized augmented plane wave) w ramach formalizmu DFT (density functional theory) stosując przybliżenie GGA (generalized gradient approximation). Ze względu na silne oddziaływania korelacyjne elektronów 4f w atomie Tb zastosowano dodatkowo poprawkę kulombowską U w ramach modelu...

The hypothetical stoichiometric CeBa2Cu3O7 (Ce123) compound, which has not been synthesized as a single phase yet, was studied by the density functional theory (DFT). We utilized a method which merges the local spin density approximation (LSDA) with the dynamical mean-field theory (DMFT) to account for the electronic correlations. The LSDA+DMFT calculations were performed in the high-temperature range. The particular emphasis was...
Obtained scientific degrees/titles
Obtained science degree

dr hab. inż. Physics

(Physical sciences)

Obtained science degree

dr inż. Physics

(Physical sciences)
seen 1132 times