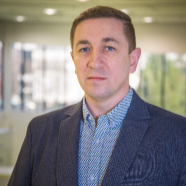 dr hab. inż. Paweł Szczepankowski
Professor
Workplace

Gmach Elektrotechniki i Automatyki B ul. Sobieski pokój 320

Phone

(58) 347 11 39
This paper proposes the use of barycentric coordinates in the development and implementationof space-vector pulse-width modulation (SVPWM) methods, especially for inverters with deformed space-vector diagrams. The proposed approach is capable of explicit calculation of vector duty cycles, independentof whether they assume ideal positions or are displaced due to the DC-link voltage imbalance. The use ofbarycentric coordinates also...

This paper proposes and discusses a concept of a hybrid modulation for the control of modular voltage source inverters with coupled reactors. The use of coupled reactors as the integrating elements leads to significant reduction in the size and weight of the circuit. The proposed modulation combines novel coarsely quantized pulse amplitude modulation (CQ-PAM) and innovative space-vector pulse width modulation (SVPWM). The former...

The paper presents a novel approach to the Pulse Width Modulation (PWM) duty cycle computing for complex or irregular voltage vector arrangements in the two (2D) and three–dimensional (3D) Cartesian coordinate systems. The given vectors arrangement can be built using at least three vectors or collections with variable number of involved vectors (i.e. virtual vectors). Graphically, these vectors form a convex figure, in particular,...
seen 625 times