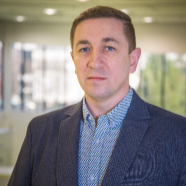 dr hab. inż. Paweł Szczepankowski
Professor
Workplace

Gmach Elektrotechniki i Automatyki B ul. Sobieski pokój 320

Phone

(58) 347 11 39
This paper proposes the use of barycentric coordinates in the development and implementationof space-vector pulse-width modulation (SVPWM) methods, especially for inverters with deformed space-vector diagrams. The proposed approach is capable of explicit calculation of vector duty cycles, independentof whether they assume ideal positions or are displaced due to the DC-link voltage imbalance. The use ofbarycentric coordinates also...

The paper puts forth a novel idea for the computation of Nearest Three Virtual Space Vector Pulse Width Modulation for the three level NPC converters. The computations are based on the concept of final element shape function widely used in the domain of finite element analysis. The proposed approach significantly frees the computations from the use of trigonometric functions, which simplifies the computations and permits easier...

A simple model is derived and verified for evaluating the effect of parasitic capacitances on the dead-time related voltage distortion in multilevel NPC voltage source inverters. The model permits well-defined and precise compensation of dead-time distortion, exhibiting meaningful improvement on compensation methods neglecting the effects of parasitic capacitances. A simple formula is given for evaluating the capacitances as serial/parallel...
seen 1014 times