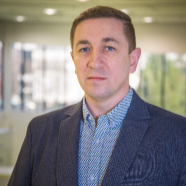 dr hab. inż. Paweł Szczepankowski
Professor
Workplace

Gmach Elektrotechniki i Automatyki B ul. Sobieski pokój 320

Phone

(58) 347 11 39
This paper proposes the use of barycentric coordinates in the development and implementationof space-vector pulse-width modulation (SVPWM) methods, especially for inverters with deformed space-vector diagrams. The proposed approach is capable of explicit calculation of vector duty cycles, independentof whether they assume ideal positions or are displaced due to the DC-link voltage imbalance. The use ofbarycentric coordinates also...

The paper proposes an alternative and novel approach to the PWM duty cycles computation for Conventional Matrix Converters (CMC) fed by balanced, unbalanced or non–sinusoidal AC voltage sources. The presented solution simplifies the prototyping of direct modulation algorithms. PWM duty cycles are calculated faster by the smooth interpolation technique, using only vector coordinates, without trigonometric functions and angles. Both...

This article presents the design and control of 4L-DC back-to-back converter. To solve the DC link voltage balancing problem in four-level converter a new three-level double chopper topology based on PO-PWM modulation was designed and successfully tested. Also, the paper describes two phase space vector pulse width modulation 2P-SVPWM based on the shape function of finite elements. The control structure with modified Dead-Beat...
seen 1637 times