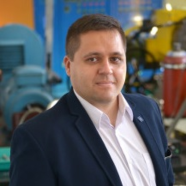 dr inż. Piotr Patrosz
The article concentrates on the research of the pressure peaks in a working chamber of an axial piston pump. The main focus of the article is the influence of fluid properties on the pressure peaks value. Experimental and analytical methods were used to determine the impact of the fluid density, viscosity, compressibility and aeration. The article describes the pressure peak generation process and explains the theoretical basis...

In this paper, new methods for determining the pressure drop in internal channels of a hydraulic motor are proposed and described. Mathematical models of pressure losses in internal channels have also been described. Experimental tests of the satellite motor were carried out according to one of the proposed methods. The tests were carried out for two liquids, i.e., water and mineral oil. Experimental studies have shown that at...

A novel type of an axial, piston-driven high pressure hydraulic pump with variable capacity marks a significant improvement in the area of the hydraulic machinery design. Total discharge from hydrostatic forces eliminates a need for a servomechanism, thus simplifying operation, reducing weight and introducing the possibility of the pump displacement control by computer. PWK-type pumps, invented in the Gdansk University of Technology,...
seen 1561 times