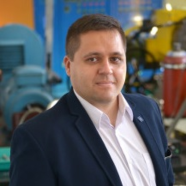 dr inż. Piotr Patrosz
Adiunkt
Workplace

Budynek Wydziału Mechanicznego pokój 408

Phone

(58) 347 28 31
A novel type of an axial, piston-driven high pressure hydraulic pump with variable capacity marks a significant improvement in the area of the hydraulic machinery design. Total discharge from hydrostatic forces eliminates a need for a servomechanism, thus simplifying operation, reducing weight and introducing the possibility of the pump displacement control by computer. PWK-type pumps, invented in the Gdansk University of Technology,...

In the paper results of experimental tests on multi-plate wet clutch torque capacity for various diameters and numbers of friction plates are presented. Construction of an apparatus for laboratory tests of wet clutch engagement, drag torque and maximum torque is shown. Methodology of maximum torque capacity experiment and hydraulic circuit diagram, which supplies a motor and an actuator for the experiment are described. Analytically...

Axial piston pumps are the core elements of most medium and high-pressure hydraulic systems. High volumetric efficiency and high working pressures are the main advantages of this type of pumps. Therefore it is necessary to accurately calculate the leakage flow through the gaps to design efficient high-pressure pump. The main difficulty of such calculations is the fact, that the gaps change their geometry during pumping process....
seen 702 times