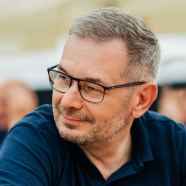 dr inż. Tadeusz Brzozowski
The paper presents the monitoring system of the embankment supported on concrete columns and overlaid by a load transfer platform (LTP) with the embedded steel grid. This field investigation was to study the complex inter-action between the columns, the LTP layer, and steel reinforcement via full-scale in situ measurements during erection of the embankment. The study was focused on the behaviour of steel reinforcement and the behaviour...

W artykule scharakteryzowano i przeanalizowano ogólne zalecenia Eurokodu 7 dotyczące wyznaczania nośności pali na podstawie próbnych obciążeń statycznych. Porównano je z zaleceniami dotychczasowej polskiej normy PN-83/B-02482. Przedstawiono kilka przykładów interpretacji rzeczywistych wyników próbnych obciążeń pali według zaleceń wyżej wymienionych dwóch norm wraz z analizą porównawczą.

Scharakteryzowano zastosowanie pali stalowych w nowoczesnym budownictwie mostowym i hydrotechnicznym. Przedstawiono przykłady zastosowań w konstrukcjach mostowych oraz portowych zrealizowane w kraju.
seen 467 times