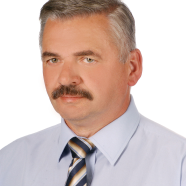 prof. dr hab. inż. Waldemar Kamiński
Employment
Research fields
Deformation measurements have a repeatable nature. This means that deformation measurements are performed often with the same equipment, methods, geometric conditions and in a similar environment in epochs 1 and 2 (e.g., a fully automated, continuous control measurements). It is, therefore, reasonable to assume that the results of deformation measurements can be distorted by both random errors and by some non-random errors, which...

ALS point cloud filtering involves the separation of observations representing the physical terrain surface from those representing terrain details. A digital terrain model (DTM) is created from a subset of points representing the ground surface. The accuracy of the generated DTM is influenced by several factors, including the survey method used, the accuracy of the source data, the applied DTM generation algorithm, and the survey...

Ekstrakcji DTM pozyskanego z użyciem ALS (Airborne Laser Scanning) z chmury punktów, jest złożonym zadaniem, które wymaga wielu algorytmów i procedur numerycznych. Jednym z pierwszych kroków jest filtracja danych. Istnieje wiele różnych metod filtrowania i algorytmów. W tym artykule autorzy proponują metodę filtracji w oparciu o logikę rozmytą. Prezentują podstawowe informacje dotyczące logiki rozmytej, projekt reguł rozmytych...
Obtained scientific degrees/titles
Obtained science title

prof. dr hab. inż. Geodesy and cartography

(Technology)

Wydział Geodezji i Gospodarki Przestrzennej Uniwersytet Warmińsko - Mazurski w Olsztynie
seen 710 times