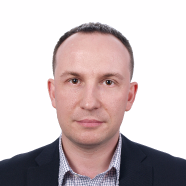 dr inż. Filip Kutt
Zatrudnienie
Obszary badawcze
Kontakt dla biznesu
Centrum Transferu Wiedzy i Technologii
Lokalizacja

Al. Zwycięstwa 27, 80-219 Gdańsk

Telefon

+48 58 348 62 62

E-mail
In this paper a synchronous generator model is described. This model is developed on the assumption that in loaded and no load conditions the saturation effect affects the pole shoe in a different way. The developed model is based on the multiple saliency model and is formulated using winding function approach in machine variables. The influence of the non-uniform saturation of the pole shoe in load conditions on the performance...

The paper describes a synchronous generator model developed based on the multiple reference frame theory. The main physical phenomena included in the model are the machine armature non-sinusoidal voltage waveform and the influence of armature current in load conditions on the armature voltage waveform higher harmonic components. The modified multiple reference frame theory model is proposed. In this modified theory model the field...

This paper represents a numerical and experimental investigation of the multicell piezoelectric motor. The proposed design consists of three individual cells that are integrated into the stator, double rotor, and a preload system combined into a symmetrical structure of the motor. Each of the cells is characterized by a traveling wave and rotating mode motor. A finite element numerical analysis is carried out to obtain optimal...
Uzyskane stopnie/tytuły naukowe
Nadanie stopnia naukowego

dr inż. Elektrotechnika

(Dziedzina nauk technicznych)
wyświetlono 318 razy