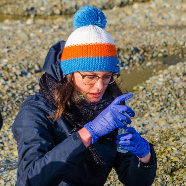 Kontakt dla biznesu
Centrum Transferu Wiedzy i Technologii
Lokalizacja

Al. Zwycięstwa 27, 80-219 Gdańsk

Telefon

+48 58 348 62 62

E-mail
The paper presents changes in concentration levels of dioxin-like compounds that can be observed over the course of four study seasons in water samples collected from the Arctic watershed of Svalbard. The conducted analysis involved anthropogenic and natural factors that may affect the concentration of PAHs in the study samples of water. An attempt is made to indicate the emission source of the compounds being deposited and to...

Persistent organic pollutants (POPs) have been a topic of interest in environmental sciences for > 60 years. POPs in the Arctic have been investigated since the 1970s, when first atmospheric measurements revealed the presence of these pollutants in the polar regions. Major contaminant transport routes to the Arctic include atmospheric and oceanic transport, as well as inflow from rivers and sea ice. The sources of pollutants, such...

The polar regions (Arctic and Antarctic) constitute up to 14% of the biosphere and offer some of the coldest and most arid Earth's environments. Nevertheless several oxygenic phototrophs including some higher plants, mosses, lichens, various algal groups and cyanobacteria, survive that harsh climate and create the base of the trophic relationships in fragile ecosystems of polar environments. Ecosystems in polar regions are characterized...
Uzyskane stopnie/tytuły naukowe
Nadanie stopnia naukowego

dr inż. Nauki chemiczne

(Dziedzina nauk ścisłych i przyrodniczych)
wyświetlono 380 razy