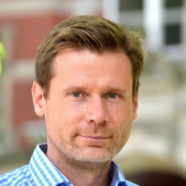 dr hab. inż. Marek Tobiszewski
Biography
Born on April 7, 1984 in Gdańsk. In 2012, he defended his doctorate with honors, in 2017 he obtained his habilitation on the basis of the scientific achievement "Development of analytical procedures and solvents for the assessment of environmental nuisance". He has been working at the Department of Analytical Chemistry since 2012.
His research interests includes analytical chemistry, especially the analytics of organic compounds in environmental samples and green chemistry. In particular, it deals with the assessment of the environmental nuisance of chemical reagents and solvents as well as various types of chemical processes. It also deals with the multi-objective optimization of the solvent extraction process and the development of easily available, simplified analytical procedures. He applies the techniques of multivariate statistics and the techniques of multi-criteria decision making for this purpose. His scientific interests combine knowledge in the field of chemical analysis, environmental chemistry, toxicology, decision-making science and advanced statistics.
He is a member of the editorial boards of Advances in Sample Preparation, Green Analytical Chemistry, Frontiers in Analytical Science. Editor of special issues published in Frontiers in Chemistry and Molecules.
The most important awards and distinctions are the Award of the City of Gdańsk for Young Scientists Jan Uphagen in 2013, Award for independent scientific works by young scientists published in 2012 - Mathematical, Physical and Chemical Sciences. In addition, he received an award for an outstanding habilitation in the field of analytical chemistry of the Committee of Analytical Chemistry of the Polish Academy of Sciences, published in 2017. Awarded with the prizes of the Rector of the Gdańsk University of Technology for scientific achievements.
He collaborates with scientists from Spain, Greece, Bulgaria, Turkey, Italy and China. He has promoted two doctorates.
seen 2864 times