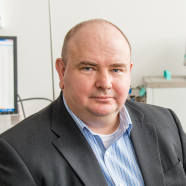 prof. dr hab. inż. Piotr Jasiński
W pracy przedstawiono właściwości elektryczne kompozytów (La,Sr)MnO3-YSZ. Materiały te dzieki swoim włąściwościom mogą staniwć dobry materiał na katody ogniw paliwowych. Przedstawiono też wyniki badań ogniwa paliwowego pracującego z paliwem wodorowym zbudowanego na bazie katody z kompozytu LSM-YSZ i anody Ni-YSZ. Uzyskano gęstośc mocy 0.26 W cm−2 przy temperaturze 850°C.

W pracy przedstawiono badania porowatej stali nierdzewnej typu 430L do zastosowań w tlenkowych ogniwach paliwowych jako podłoża. Podłoża były poddawane utlenianiu w powietrzu oraz w wodorze i analizowane z wykorzystaniem mikroskopu elektronowego, dyfrakcji rentgenowskiej i termograwimetrii cyklicznej.

In this study two materials, MnCo2O4 and MnCo1.8Fe0.2O4 are studied as potential protective coatings for Solid Oxide Fuel Cell interconnects working at 750 °C. First powder fabrication by a modified Pechini method is described followed by a description of the coating procedure. The protective action of the coating applied on Crofer 22 APU is evaluated by following the area specific resistance (ASR) of the scale/coating for 5500...
Obtained scientific degrees/titles
Obtained science title

prof. dr hab. inż. Automation, electronic and electrical engineering

(Engineering and Technology)

Obtained science degree

dr hab. inż. Electronics

(Technology)

Obtained science degree

dr inż. Electronics

(Technology)
seen 3050 times