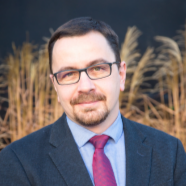 The contemporary electrical power infrastructure is exposed to new types of threats. The cause of such threats is related to the large number of new vulnerabilities and architectural weaknesses introduced by the extensive use of Information and Communication Technologies (ICT) in such complex critical systems. The power grid interconnection with the Internet exposes the grid to new types of attacks, such as Advanced Persistent...

Static Var Compensators operation in a power system may significantly improve voltage profiles in nodes and the reactive power balance, as well as ensure greater system stability in emergency conditions. However these devices may be a cause of a resonance in the system. The aim of this paper is to call attention to the need to include resonance phenomena in a compensator's location evaluation process. The analysis performed in...

In recent years renewable sources have been dominating power system. The share of wind power in energy production increases year by year, which meets the need to protect the environment. Possibility of conducting, not only computer simulation, but also laboratory studies of wind turbine operation and impact on the power system and other power devices in laboratory conditions would be very useful. This article presents a method...
Obtained scientific degrees/titles
seen 879 times