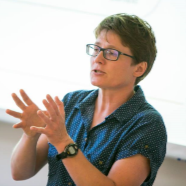 dr Katarzyna Stankiewicz
Business contact
Centrum Transferu Wiedzy i Technologii
Location

Al. Zwycięstwa 27, 80-219 Gdańsk

Phone

+48 58 348 62 62

E-mail
Adiunkt
Workplace

Budynek Wydziału Zarządzania i Ekonomii pokój 502

Phone

(58) 348 60 05

E-mail
Work-life balance is a priority of EU policies but at the same time demographic change affects the labour market. Employers have to deal with the ageing of their employees and adjust human resource management to maintain their competitiveness. The purpose of the article is to answer research questions: whether the age of workers determines their assessment of the work-life balance, and whether there is a relationship between the...

The present article relates to management of age diverse teams in organisations and enterprises located in Poland. Managing diversity is an active and conscious process leading not only to a lack of discriminatory conduct but above all to making full use of the potential of the team. The potential resulting from the diversity of knowledge, skills and experience. The diversity of the age of the team members is in fact a differentiation...

As entrepreneurial teams become prevalent, it is important to study factors related to their creation and effectiveness. The goal of the current research was to analyze preferences towards working in a multicultural team (MCT) versus a single culture team (SCT) at different stages of the entrepreneurial process. The study involved students originating from various cultures with previous experience in both SCTs and MCTs as participants....
Obtained scientific degrees/titles
Obtained science degree

dr n. hum. Psychology

(Social studies)

Uniwersytet Gdański, Wydział Nauk Społecznych
seen 401 times