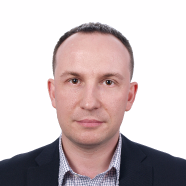 dr inż. Filip Kutt
Employment
Research fields
The paper describes a novel approach in battery storage system modelling. Different types of lithium-ion batteries exhibit differences in performance due to the battery anode and cathode materials being the determining factors in the storage system performance. Because of this, the influence of model parameters on the model accuracy can be different for different battery types. These models are used in battery management system...

This paper represents a numerical and experimental investigation of the multicell piezoelectric motor. The proposed design consists of three individual cells that are integrated into the stator, double rotor, and a preload system combined into a symmetrical structure of the motor. Each of the cells is characterized by a traveling wave and rotating mode motor. A finite element numerical analysis is carried out to obtain optimal...

The paper describes a synchronous generator model developed based on the multiple reference frame theory. The main physical phenomena included in the model are the machine armature non-sinusoidal voltage waveform and the influence of armature current in load conditions on the armature voltage waveform higher harmonic components. The modified multiple reference frame theory model is proposed. In this modified theory model the field...
Obtained scientific degrees/titles
Obtained science degree

dr inż. Electrical engineering

(Technology)
seen 557 times