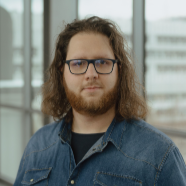 Obtained scientific degrees/titles
Obtained science degree

dr inż. Materials engineering

(Engineering and Technology)
Nanosilver-loaded PMMA bone cement (BC-AgNp) is a novel cement developed as a replacement for conventional cements. Despite favorable properties and antibacterial activity, BC-AgNp still lacks biodegradability and bioactivity. Hence, we investigated the doping with bioactive glasses (BGs) to create a new bioactive BC characterized by time-varying porosity and gradual release of nanosilver. The BC Cemex was used as the base material...

Acrylic bone cements (BC) are wildly used in medicine. Despite favorable mechanical properties, processability and inject capability, BC lack bioactivity. To overcome this, we investigated the effects of selected biodegradable additives to create a partially-degradable BC and also we evaluated its combination with nanosilver (AgNp). We hypothesized that using above strategies it would be possible to obtain bioactive BC. The Cemex...

Bacterial infections due to bone replacement surgeries require modifications of bone cement with antibacterial components. This study aimed to investigate whether the incorporation of gentamicin or nanometals into bone cement may reduce and to what extent bacterial growth without the loss of overall cytocompatibility and adverse effects in vitro. The bone cement Cemex was used as the base material, modified either with gentamicin...
seen 5639 times