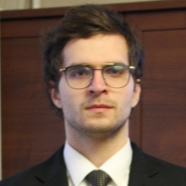 Catalog Publications
Year

2022
A problem of state estimation for a certain class of non-linear uncertain systems has been addressed in this paper. In particular, a sliding mode observer has been derived to produce robust and stable estimates of the state variables. The stability and robustness of the proposed sliding mode observer have been investigated under parametric and unstructured uncertainty in the system dynamics. In order to ensure an unambiguous non-linear...
Year

2021
A control problem of an inverted pendulum on a cart has been addressed in this paper. In particular, a synthesis of alternative sliding mode control for stabilisation of an inverted pendulum at an upper equilibrium point has been investigated. Hence, the feasibility of implementing the developed control system, taking into account primarily the friction of the cart against the gantry and the limited length of the gantry, in a real...

The problem of PID type controller tuning has been addressed in this paper. In particular, a method of selection of PD settings based on the solution of linear–quadratic optimisation problem using the energy criterion has been investigated. Thus, the possibility of transforming optimal settings of the linear–quadratic regulator into the settings of the controller in the classical control system has been given. The presented methodology...
Year

2019
The problem of mathematical modelling and indication of properties of a DIP has been investigated in this paper. The aim of this work is to aggregate the knowledge on a DIP modelling using the Euler-Lagrange formalism in the presence of external forces and friction. To indicate the main properties important for simulation, model parameters identification and control system synthesis, analytical and numerical tools have been used....

Układy sterujące typu PID są jednymi z najbardziej popularnych regulatorów wykorzystywanych w układach regulacji. W związku z tym znanych jest szereg metod doboru wartości ich parametrów (nastaw). Obok różnych metod inżynierskich czy analitycznych strojenia tego typu regulatorów, dostępne są również podejścia bazujące na optymalizacji. Wskaźnikiem jakości znajdującym w nich zastosowanie jest np. całka z kwadratu uchybu. W artykule...
seen 1075 times