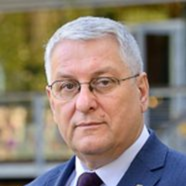 prof. dr hab. inż. Jerzy Wtorek
Using a novel method called near-infrared transillumination backscattering sounding (NIR-T/BSS) that allows for the non-invasive measurement of pial artery pulsation (cc-TQ) and subarachnoid width (sas-TQ) in humans, we assessed the influence of sympathetic activation on the cardiac and respiratory contribution to blood pressure (BP) cc-TQ oscillations in healthy subjects. The pial artery and subarachnoid width response to handgrip...

Diagnosis of obstructive sleep apnea usually involves polysomnographic analysis, which unfortunately requires overnight stay in a specialized clinic and is very uncomfortable for a patient. This paper describes the method and apparatus for recording a set of signals to detect sleep apnea. The device records the following signals simultaneously: three-channel ECG, respiratory functions, signals from the accelerometer, and snoring...

We propose the use of smart glasses to collaborate with smart objects in the Internet of Things environment. Particularly we are focusing on new interaction methods and the analysis of acceptable reaction times in the process of object recognition using smart glasses. We evaluated the proposed method using user studies and experiments with three different smart glasses: Google Glass, Epson Moverio, and the developed eGlasses platform....
Obtained scientific degrees/titles
Obtained science title

prof. Biocybernetics and biomedical engineering

(Technology)

Obtained science degree

dr hab. inż. Electronics

(Technology)

Obtained science degree

dr inż. Electronics

(Technology)
seen 675 times