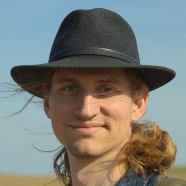 mgr inż. Paweł Michał Bielski
Katalog Publikacji
2019
The aim of this study was to elaborate a method of estimation of activity of surface muscles acting at the temporomandibular joint of the healthy subjects by using a surface electromyography (EMG). The scope of this study involved testing chosen jaw motions (open, close, lateral deviation) and process of mastication occurring during eating food with different toughness (chewing gum, cereal and carrot) by using mixed sides, right...

The study makes an attempt to model a complete vibrating guitar including its non-linear features, specifically the tension-compression of truss rod and tension of strings. The purpose of such a model is to examine the influence of design parameters on tone. Most experimental studies are flawed by uncertainties introduced by materials and assembly of an instrument. Since numerical modelling of instruments allows for deterministic...
2018
2017
Musical instruments are very various in terms of sound quality with their timbre shaped by materials and geometry. Materials' impact is commonly treated as dominant one by musicians, while it is unclear whether it is true or not. The research proposed in the study focuses on determining influence of both these factors on sound quality based on their impact on harmonic composition. Numerical approach has been chosen to allowed independent...
wyświetlono 446 razy